Blog
Posted by on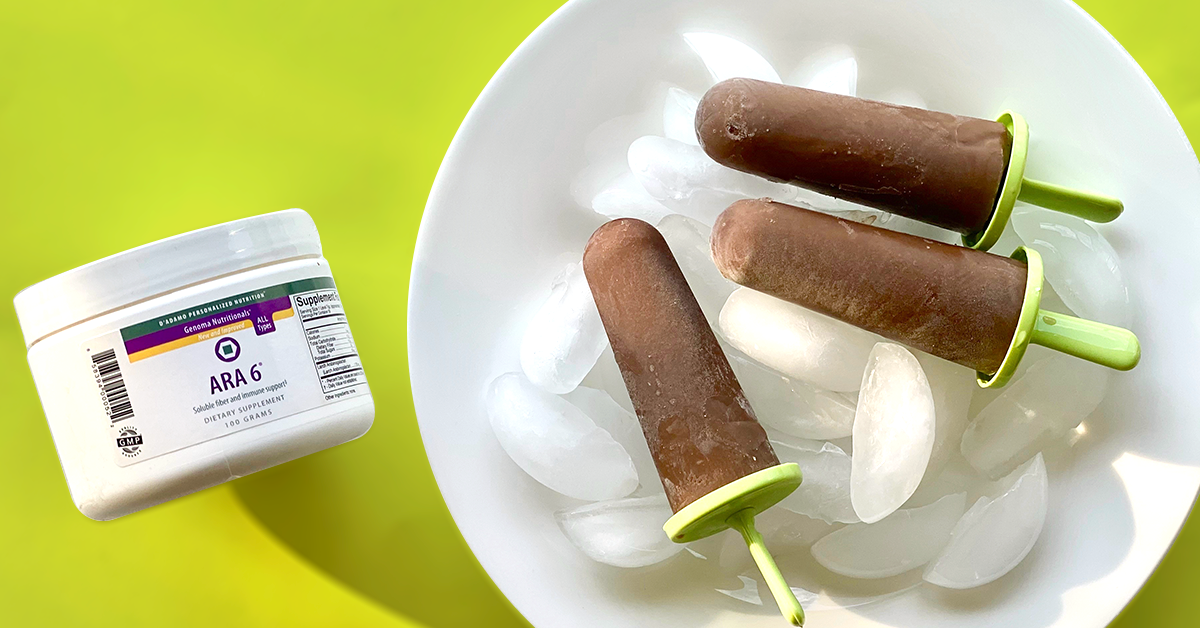 Fudge pops are a tasty summer classic, so why not recreate them to be right 4 your type? These fudge pops include our ARA 6 powder and Carob Extract to give you an extra boost of beneficials! They're so delicious, you'll forget they're good for you! If you love frozen treats, you'll also enjoy these Green Smoothie Pops, right 4 all types! Find more nourishing recipes like this in Dr. Peter D'Adamo's Eat Right 4 Your Type Personalized Cookbooks.
Ingredients:
14 oz almond milk*
½ cup pure cacao powder
3 tbsp agave syrup
1 tsp vanilla extract**
1 tsp ARA 6®
1-2 tbsp Genoma Carob Extract
*Avoid for type O non-secretors, substitute rice milk.
**Avoid for type O non-secretors, omit vanilla extract.
Instructions:
In a blender, pulse all of the ingredients together until combined.
Pour the milky mixture into popsicle moulds, yield will depend on the size of your moulds.
Freeze for a minimum of 3 hours until set. Enjoy!
If you've been thinking about trying The Blood Type Diet®, or if you're a long-time follower looking to get more serious about your health and well-being, the 10-Day Blood Type Diet Challenge is a great way to set yourself up for maximum results.Perhaps you've had long months without going to the gym, or put on [...]
May is Celiac Awareness Month. It's a month dedicated to education, awareness and advocacy for a disease that affects two million people in the United States and about 1% of people in the world. *At D'Adamo Personalized Nutrition, we are frequently asked about celiac disease and The Blood Type Diet®. Specifically, many of our readers [...]
It can be hard to find a cake that is both delicious and right for the whole family. Luckily, this carrot cake is naturally sweet and right 4 all types! Carrot cake is a classic favorite but the frosting is usually made with cream cheese, which is an Avoid for many. Our chocolate chai frosting [...]
We originally found David through an inspiring Facebook post he made in ourEat Right 4 Your Type - Blood Type O Group, so we decided to reach out for a full interview. We hope you enjoy his inspiring story!Original Facebook Post:"I have previously posted a testimony here 4 years ago. Time for an update. I [...]
If you suffer from hay fever, you're not alone. According to the Asthma and Allergy Foundation of America, more than 50 million Americans have seasonal allergies. Of course, that's little consolation to anyone who endures the unpleasant symptoms year after year.Typical outdoor allergens include pollen from various trees, grasses and weeds—wreaking havoc on unsuspecting immune [...]
These plant-based muffins are easy to make and so tasty you'll forget they're good for you! They are easily customizable with your favorite fruits and nuts to fit the tastes of everyone in your family. If you're craving something sweet, these muffins will be ready in less than an hour. For the drizzle, our Proberry [...]
For centuries, we have turned to nature to remedy a variety of ailments. From tea tree oil to Echinacea, many over-the-counter supplements derived from plants have become common household names. But some plant-derived "medicines" you may be less familiar with, even though they have tremendous healing power. Larch arabinogalactan, for example, has numerous health-enhancing benefits. This [...]
Welcome to D'Adamo Personalized Nutrition, the first company dedicated to providing nutritional support and guidance for individuals who follow the Blood Type Diet and the GenoType Diet. Under the guidance of our Chief Scientific Advisor, Dr. Peter D'Adamo, naturopathic physician, researcher, and author of the internationally best-selling, Eat Right For Your Type, D'Adamo supplements have [...]
Looking for a yummy and protein-packed breakfast to brighten your morning? This Berry-Pecan Parfait is a delicious way to start your day. Featuring our newUniblend Protein Powder (Unflavored) and Proberry 3 Liquid, this breakfast has everything you need to feel great all morning. Find more nourishing recipes like this in Dr. Peter D'Adamo'sEat Right 4 [...]