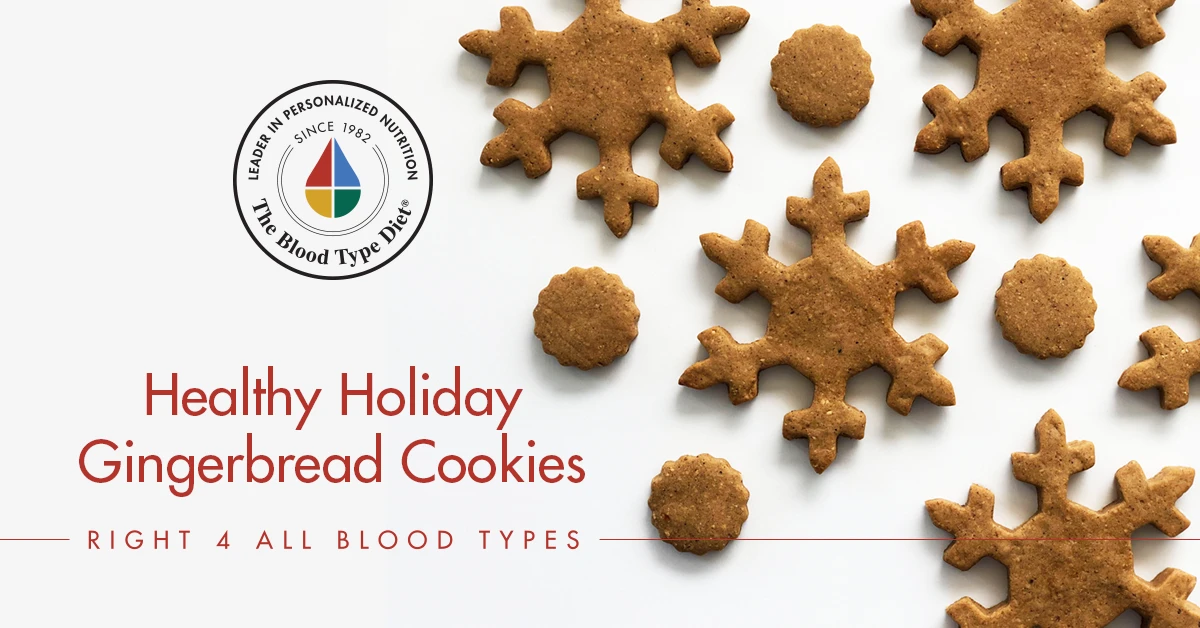 Sweet treat: These Gingerbread cookies are low in sugar, and are delicious paired with your favorite nut butter and a sprinkle of cacao nibs or berries! Find more delicious, simple to prepare recipes in the Eat Right for Your Type Personalized Cookbooks.
Makes 16 (depending on the size of your cutter)
Ingredients:
2 tbsp pure almond butter
½ cup pecans
¾ cup brown rice flour
⅓ cup date syrup*
2 tbsp ground ginger
2 tbsps cinnamon**
½ tsp ground cloves
1 tbsp ghee
1 tbsp chia seeds
2 tbsp water (or a little more)
*Dates are an Avoid for Type O non-secretors, substitute agave syrup.
**Cinnamon is an Avoid for Type O non-secretors & Type Bs.
Instructions:
Preheat your oven to 360°F.
In an electric mixer, pulse all of the ingredients, except for the water, together.
When all ingredients are well incorporated, mix in the water, 1 tbsp at a time. Add the water you need until you get a soft dough - but not gooey.
Take out the dough from the mixer and make a dough ball. On a sheet of greaseproof paper, place your dough ball and cover with a second sheet of greaseproof paper. With a rolling pin, spread out the dough to a uniform thickness of about a quarter inch. Refrigerate for 10 minutes.
Prepare the baking tray and line with baking parchment paper.
Remove flattened dough from the fridge. Peel off top greaseproof sheet, and start cutting out your gingerbread cookies with a cookie cutter. Place them on your tray and bake for 12-15 minutes until firm and golden brown.
Cool your biscuits on a rack before storing them in an airtight container—if you haven't eaten them already!